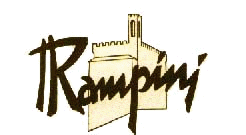 Ceramiche d'arte
GUBBIO
For centuries Gubbio has been one of the most well-know centres
for the production of artistic ceramics....
....in the workshop of the master potter of the Rampini Family, the techinique and love of this ancient craft has been handed down from father to son. The object we continue to create are entirly hand-made and are intended both for daily use use and also decoration. Both the phases of creating the forms and the decoration are carried out according to ancient techniques....